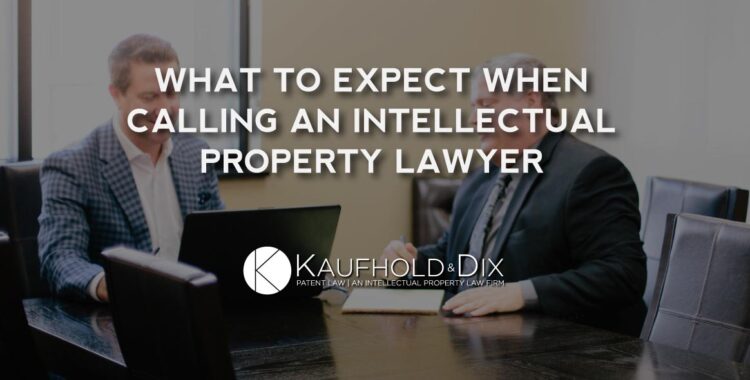 What To Expect When Calling A Patent & Trademark Lawyer
What Should You Expect When Calling An Intellectual Property Lawyer
Patent attorneys can be indispensable partners in helping you patent and protect your new invention and other intellectual property. They will give you critical advice on successful patent applications and help you get justice when infringement occurs. If you have intellectual property you want to protect, the first person you should consult with is a patent and trademark lawyer. Here's what you need to expect when calling the lawyer.
Do Some Preparation
Preparing yourself adequately before contacting the attorney helps to organize your thoughts and allows you to feel confident and relaxed throughout the conversation. Furthermore, you will be cohesive when talking about your idea, and the attorney will be in a better position to understand you and offer helpful advice. Begin by gathering all information that will help paint a clear picture of the invention in the attorney's mind.
Some items to consider:
prepare a background of your creation and what problem are you solving
write a brief timeline of events
highlight the key aspects of your innovation and what makes your invention different
draft a list of questions to which you can refer
compile any other documents that are relevant to the project.
Intellectual Property Playbook
An Entrepreneur's Guide To Patents, Trademarks, and Copyrights
GET THE PLAYBOOK
Consultation
Your first phone call with the attorney is an opportunity for you to gauge whether the lawyer suits your needs. It's also a chance for you to tell your story and build a relationship with the attorney. The patent practitioner may ask you a few questions focused on your invention to help them understand your idea and see how best they can help you.
During the initial consultation on the phone or in person, you are free to ask any questions you have. The attorney will address all your questions, separate legal myths from legal facts, clear the air on any concerns you have, and layout the best option for your situation. To ensure you are getting the right advice, make sure you contact an expert who has extensive experience in patent law and who has handled hundreds, if not thousands, of cases in front of the United States Patent and Trademark Office.
Be Ready To Take Notes
When your mind is preoccupied with your project, it's easy to forget what you discussed with an attorney. Therefore, it's important you take notes on any important topics that are discussed with the attorney. Also, list all the documents that you are required to obtain.
Understand The Fees Structure
Different patent law firms have different payment policies. To avoid fees that constantly increase as the process goes forward, consider partnering with attorneys that offer flat fees that don't come with hidden costs. There are a few patent law firms that offer a flat fee covering everything, including the drawings, writing of the application, and responses to office actions (responses to Patent Office rejections and inquiries). Before committing to an attorney, don't be afraid to ask for a cost breakdown.
Book An Appointment
If you decide to work with the lawyer you have talked to, you can book an appointment with them. If you are still undecided, you can take advantage of patent firms that offer a free consultation and meet face-to-face with an experienced intellectual property lawyer. This way, you will understand the process better, obtain clarification of any concerns that might have, and ensure that you are traveling the right path before you make mistakes that could cost you many thousands of dollars and the risk of losing your rights.
What Happens Next?
After you decide to further the relationship, the lawyer may request you to provide any information that demonstrates your idea. These can be pictures, diagrams, charts, or notes. These documents allow them to determine whether you should pursue a patent application.
Patent attorneys typically enlist a professional searcher who thoroughly checks whether a similar idea exists for which a patent has been applied or obtained. The search is global, and it looks for similar products and publications. Using these results, the attorney then drafts a legal opinion which discusses whether your innovation has the potential to be patentable.
The opinion letter will help you decide whether to protect your idea or put things on hold. If the letter indicates there is hope that your invention can be patented, you can now move forward with added confidence. The lawyer will use the information you provided to prepare drawings and write a patent application. After your review and approval, the patent application is filed with the USPTO. It is at that point that you are considered patent pending.
Tips For Meeting With A Patent Attorney
1. Prepare Your Invention For A Detailed Discussion
To represent you effectively, your patent attorney needs to understand your idea inside and out. To boost your chances of getting a patent, you need to know how to explain your idea to your lawyer. Organize every bit of information to allow you to articulate what your invention is and how it works.Patent attorneys, nor the USPTO, require you to have a fully operational prototype or even good drawings, and they are good at deciphering the "chicken scratch on the napkin" moments, but the more that you can provide, the smoother the process will be.
2. Perform A Preliminary Patent Search
Before seeking the services of a patent attorney, consider performing your own preliminary patent search. There are various free resources you can utilize to conduct the research. This search will help you learn whether your patent has already been claimed. However, be mindful that often only a patent attorney can adequately interpret your findings.
3. Know Who You Are Meeting With
When speaking with a patent lawyer, ask them about their background to learn about their technical knowledge regarding your invention as well as their overall experience with the USPTO. Check the years they have been in the industry, learn whether they have experience working on projects that are similar to yours, and investigate the success rate of the applications they process.
Closing Thoughts
If you have turned an idea into an invention and you want to patent it, don't hesitate to consult with a patent and trademark lawyer. These experts are here to guide you through the patent application process and protect your invention. With a distinguished patent practitioner representing you, your creation is in safe hands.