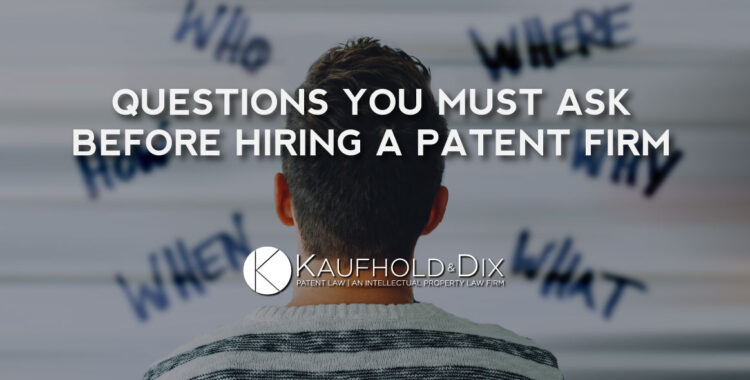 5 Questions You Must Ask Before Hiring A Patent Firm
Intellectual property has become a valuable asset for any person or business. After coming up with an innovative product, your next step should be consulting a patent firm to either prosecute a new patent or litigate existing issues. A patent firm is more of a business partner than a one-time investment. Indeed, you'll constantly rely on the advice of the firm to determine the best patents to use, how you can apply successfully, and how to litigate cases of patent infringement. You may also have concerns regarding how you're billed for this essential service.
Choosing a quality patent firm may sound easier than it is. You need to consider the expertise and experience of a potential company- as well as how much it will cost. A productive working relationship also helps you navigate challenging processes while paying attention to detail.
This piece will point out five questions that you should ask before hiring a patent firm.
How many years have you been in the industry? How many clients do you have?
Navigating U.S Patent law can be quite a challenging process. You need a patent firm that understands the nuances of patent applications, current changes in the law, and how to provide timely advice to companies. Evaluating experience involves many different elements. For example, you may ask how long the firm has been in operation, or how many clients the firm has worked with during a specific period. These questions help paint a better picture of how likely your firm is to present cases before the U.S Patent office (USPTO).
There are also additional ways through which you can evaluate the experience of a patent firm. For example, is the firm licensed to present cases before USPTO? Do they specialize in a specific type of patent application? What is the success rate in patent applications, and how long does the process take to obtain a patent? This information helps to understand the experience and expertise level of a particular patent firm.
Do you offer consultations?
Every patent application is different. Your company may be looking for a design patent in manufacturing or a utility patent in a retail-bound product. The only way your firm can get a good idea of what your goals are is by offering a free consultation. Even before making any financial commitment, you should be able to evaluate the firm's technical experience, understanding of your product, and alignment with your goals. Firms that offer a free consultation are also more likely to take the patent application process (and your satisfaction) more seriously.
What's your legal background in this field?
As you would expect, most patent firms have attorneys who practice patent law. But there are many different variations of patent law. Some lawyers specialize in the application process, where they help you present unique aspects of your product so you can win an appropriate patent. Others help you develop unique products that possess innovative value. Considering these variables is critical when choosing a patent firm. But where can you begin the selection process?
Start by inquiring about the legal background of your patent firm attorneys. You may find out where some of the lawyers went to law school or the types of applications they've processed in the past. This will help you select the best professionals who have a strong legal background in the field.
How do you charge for your services?
The patent process can be quite costly, but also very rewarding down the road. Indeed, you can lose thousands (if not millions) of dollars by failing to secure patent rights for an innovative product. And while hiring a patent firm is an investment, you'll probably want to know how much the service will cost.
Please don't shy away from asking the firm how they bill for their patent services. For example, does the patent firm charge per hour, per consultation, or based on a flat fee? Are there additional charges for long-distance consultations or filing international patents? Is there a satisfaction guarantee? Clarify all cost factors before signing the contract, so expectations are appropriately set in advance. A good patent lawyer will be transparent with their fees.
How do you maintain a productive working relationship with your clients?
Preparing and submitting a patent application is a collaborative process. You'll need to meet several times with your attorneys, share with them all relevant information, and develop a strategy for submitting a strong application to the USPTO.
Preparing a successful application starts with your patent firm having a robust patent process. This involves sharing notes often, trading ideas, and paying attention to detail. A well-rounded patent law office will prioritize your concerns and needs. Maintaining a productive relationship is critical to filing a successful patent.